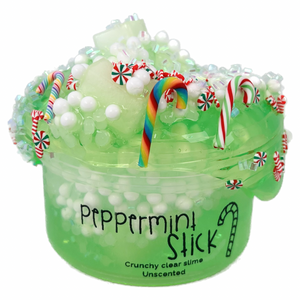 A green clear slime with jumbo foam beads and sponge cubes.
Texture: Crunchy clear slime
Perfect for bubble pops and stretching.
Scent: Unscented 
Add-on: One candy cane charm and a dash of pin wheel sprinkles and candy cane fimo slices. 
Difficulty level: 5/5
Recommended for expert slimers.
Expert slimers have experience with all types of textures and can handle any and all levels of stickiness. 
ASMR: 10000/5
IMPORTANT: All our slimes are made with a borax based activator. Slime is not edible. Recommended for ages 8 and up.